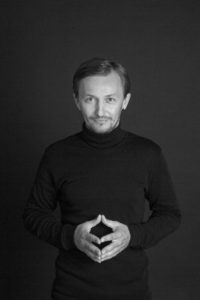 Mario Paukovic
geboren 1981 in Jugoslawien, aufgewachsen in Kroatien, lebt und arbeitet in Graz
Wenn ich nicht male, dann zeichne ich!
Neben Kunst interessiere ich mich persönlich sehr für Geschichte und fühle mich von Landkarten und alles, was mit Geographie im Zusammenhang steht angezogen.
Von Kindheit an, habe ich meine Gedanken und Eindrücke durch Zeichnen und Wandmalerei ausgedrückt, meine ersten Aufträge erhielt ich ab dem 14. Lebensjahr.
Die Karikatur und die Wandmalerei sind meine beiden großen Leidenschaften!
Ich stelle gerne menschliche Verhaltensweisen und Charaktere dar.
Meine Zeichnungen und die Malerei beinhalten sowohl realistische Motive wie auch abstrahierte Formen zur Bestärkung einer Aussage.
Malerei verzaubert alles!
Unwirkliches wird wirklich, Wirkliches kann eine zusätzliche Dimension erhalten.
Gerne tausche ich mich mit Ihnen über Ideen aus und fertige für Sie Entwürfe an!
Farbe schimmert, verändert sich, jeden und alles –
Farbe ist Schwingung und Energie,
Farbe beeinflusst unsere Wahrnehmung und Stimmung.
Farbe als "Logo"
trägt wesentlich zur Profilierung und zu einem Wiedererkennungswert bei –
Und ist in einer grauen Umwelt von steigender Notwendigkeit.
Auch beim Design ist die Farbgebung von weitreichender Bedeutung.
Zum Leben braucht der Mensch die Farbe!
Sie ist ein ebenso wichtiges Element wie das Wasser oder das Feuer.
Möge Ihnen meine Homepage Inspiration sein –
Und ich freue mich auf ihre Reaktionen und Aufträge!
Mario Paukovic
Email: rioma1453@gmail.com
"If I`m not painting, I`m drawing."
My name is Mario Paukovic, born on 08/25/1981 in Jugoslavia, grown up in Croatia. Currently I live in Graz, Austria.
Since I was a child I have always been drawing and painting. After the war in Jugoslavia in the 90ies, anarchy hit the country. Starting with graffiti on the house facades, I tried to beautify the district where I spent most of my youth. Walls and houses were destroyed, I therefore didn`t get in trouble with the law by doing graffiti. Due to the shaping experiences I had in these early years full of war, poverty and injustice, my paintings are often rather dark or melancholic – so say my critics.
My love for art evolved into an addiction, to always create something new. I would describe myself as an art collector, rather than an artist, as I believe it better reflects the diversity of the various styles I work in. My greatest inspiration for art has always been humans, culture and history. I used this inspiration to capture figures and humans in various styles, stretching from abstract art, classic portraits, to comics, cartoons and caricature.
The human anatomy fascinates me, because through behavior and gestures, it sometimes is like a mirror – A mirror for what one feels, if their daily work is wearing on them, how much their nutrition affects them. Are they happy or are they drawn by a bad fate? You can tell all those things and many other influences, by just looking very closely and paying attention to the details of someone´s body language, mimic and general behavior.
I very much try to live and work in secret of today´s art scene, the trends that are coming and going and other artists. It allows me to paint and draw what I deem important and right, based on my perception of people. I´ve been able to work on many commissioned art projects, such as sculptures, graphics, fashion and other media and designs.
As for myself, I feel the happiest when I meet people who feel joy and are genuinely interested in my motivations and intentions with regards to my art. It´s the most important thing to bring people to think as well as care. It´s about making them happy by looking at the art for a moment. Maybe it allows them to escape from their everyday routine and problems and enables them to dream. Because every artist is a dreamer.
In many ways it´s a never ending cycle – Everything I put into my art for people, I get back from through the reactions they have, the joy they might feel and the exchange of emotions that happens. I will always be part of this cycle. Because humans are energy.
Bisherige Galeriepräsenz:
– Galerie Mariahilferstraße 24, 8020 Graz
– Galerie Bergmann, 8010 Graz